Savoie Wine Region/Alps
Sunday, June 4, 2000
Again, stopping for lunch at the right time was important. I choose Bourg en Bresse on the map. Rick Steves mentioned that en bresse (style and region) is the best chicken in France. We headed to the city center near a very big church, Notre Dame. The city was pretty empty and quiet. I am sure this is because it was Sunday. Jeff spied umbrellas and we headed in that direction. The menu looked fine so we sat outside at Chez Blanc. Well we had wanted a light lunch, 'cause even we have our limits, but Sunday is a special menu, so we went for it. The menu with the Chicken en bresse (controllee! just like wine!!) was 6 courses. We opted for the smaller menu. The amuse du bouche was an eggcup of cold asparagus soup. Then we both had salads with greens, tomatoes, artichokes, white asparagus, and some wonderful warm chicken (we think this was bits en bresse). Jeff had beef with pommes pont-neuf. These potatoes were really good, fried in some slightly sweetish-seasoned butter. I had veal over a pile of white asparagus. White asparagus is in season and a very special French delicacy. We both skipped the cheese. Dessert again? Okay. Jeff had a "horn of plenty" filled with sorbet and strawberries and raspberries. I had something "en Bresse." It was two thin, light meringues filled with a cold creamy, nutty, airy mixture, rolled in pralines drizzled with a praline sauce. We knew we'd overdone again, but damn this was heaven. We took a walk around Notre Dame de Bourg en Bresse and back to autoroute.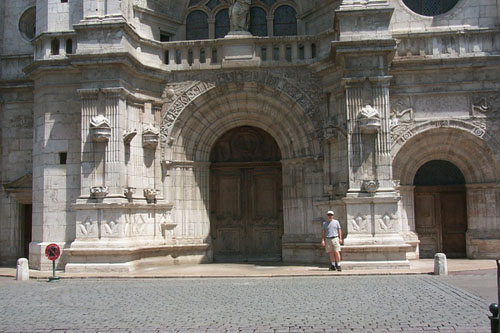 When we exited the autoroute, we were on a country lane behind several campers. Where were these people going? Well, Annecy is huge. We drove by the lake (driving around would take hours if it is possible). We had reservations at a hotel in the old town and headed there. We had a room with a beautiful view of the old city and the canal. We unpacked, took showers (it is even hotter today) and kicked back. We then went to the Centre Bonlieu to register Jeff for the Non-Photorealistic Rendering Conference. Once we figured out where the courses were in town, we came back to unload and figure out what we wanted for dinner. Jeff discovered that our lunch place was the sister of a 3 star Michelin restaurant. We knew it was good.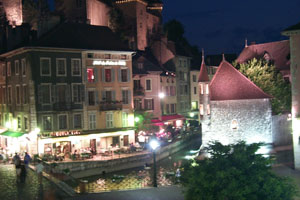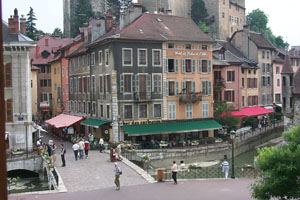 We opted for a Rick Steves recommendation for a traditional Savoy dinner. We only ordered a half bottle of local white wine and Jeff got a kir. We had green salads and a Fondue Savoyarde avec oignons. No dessert. Even I was too full. We walked a bit around the lakeside. It was a beautiful night. Jeff had an early morning.
Monday, June 5, 2000
We are staying overlooking the canal off the lake. Today we were woken by the men cleaning the canal with heavy machinery. Jeff and I split forces today. I did our laundry and got money. Jeff went to the conference to learn. Today was really lovely. It was cool and even rained a bit. On my walk back with our clean clothes, I decided to stop for lunch at a Turkish restaurant. I miss this so much from our Germany trip. I had a small lunch with chicken kebab, bulgar and tomato sauce, and pita bread (not like the american kind).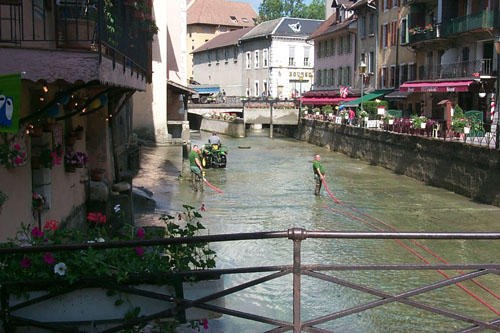 Mostly I bummed around today and caught up on writing. Jeff had a long day at the conference. The weather is cooler so that helps moods. We wanted something with less cheese for dinner, but how stupid. When in the alps, everything has cheese. We ate dinner at an Savoy Italian restaurant. We started with kir and then moved on to the local beer. Yes, folks, beer. It was really good. We had a salad, pizza and lasagne. I couldn't help myself and also had dessert and coffee. Now, I am not a coffee drinker, but French coffee is excellent. We had a leisurely walk about the old town.
Tuesday, June 6, 2000
Okay, today is the weather I thought we'd have the entire time we were here. It is downright cold. Jeff came back from sessions to get some warm clothes. I walked all through the shopping distict today and then it rained. I went through the market (several times a week in this big town) and without the prospect of fresh tamales, I bought flowers. I stopped for lunch at a small cafe. It was perfect: small salad, small quiche lorraine, and dessert and coffee. There were many English-speaking people in this place for some reason. Today was a perfect afternoon for a nap, only I was missing my cat.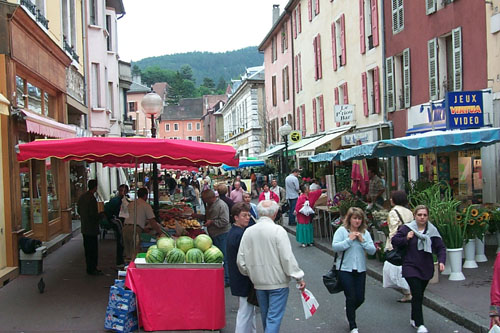 After sessions, Jeff and I walked about town. We had a crepe, not knowing what dinner would hold. Jeff made friends with the local wildlife. One bird was strutting all around him and not scared at all.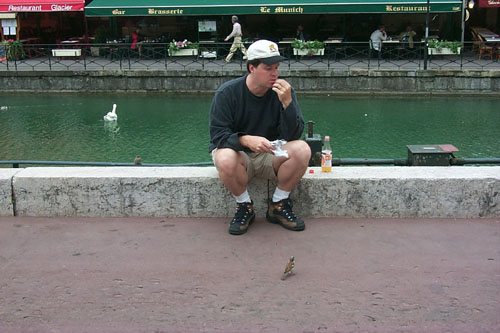 We met at the Libellule boat at 8:00 for a dinner cruise for the entire conference. We sat with students (Nick, Tim and Tobias) from a German university, Otto-Von-Guericke in Magdeburg. They are working of Phds in non-photo realistic rendering techniques. Dinner was unremarkable (oh no, not the salmon mousse).
Wednesday, June 7, 2000
The sun was out in all her glory today. While Jeff was watching the newest Pixar short and hearing the stories of John Lasseter, I spent my morning in the park. Two different french guys came up to me and tried to carry on a conversation. Fortunately my poor language skills were a plus in this case. Jeff met me for nice Italian lunch.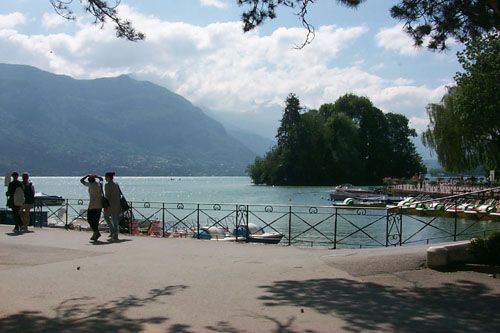 The day was nice and we cruised around town. For dinner we stopped at an another Moroccan place. We figure that France occupied that country, so probably knew something of the cuisine.
Thursday, June 8, 2000
We left Annecy after a doner kebab and a walk throught the Expo at the Hotel Imperial. Then on to Chamonix. It was a nice drive with beautiful weather. We quickly found the center of town, but our hotel was another matter. Not to worry. It was very quiet and cool in our room.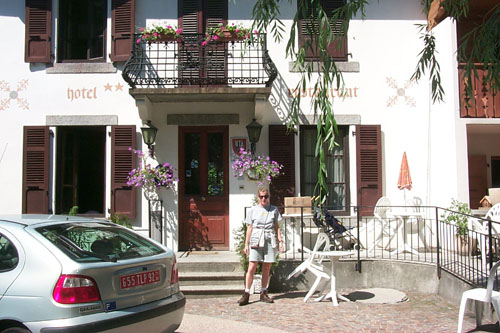 We unloaded and headed into town for some beer and ice cream (guess who had what). We ate a nice of al dente pasta dinner and went to bed. Tomorrow was a big day.
Friday, June 9, 2000
That is an understatement. Take a look at Mont Blanc: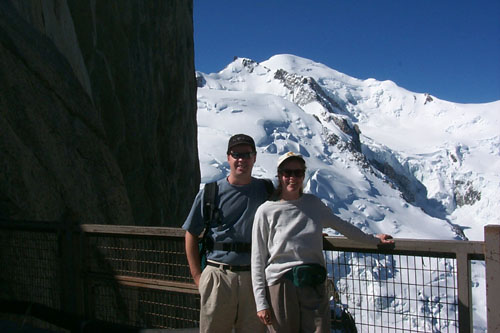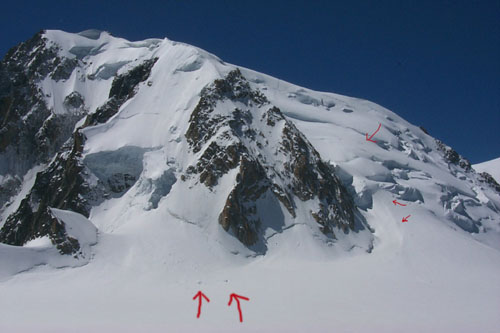 In this shot we could actually see people (I should say "les idiotes") trying to bag the summit before the clouds rolled over them. I highlighted them in red so you can see the specks in the lo-res pics.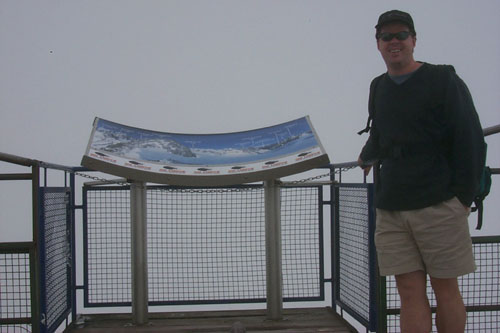 We did the whole mountain, glacier, alps hike thing. Oh and we went to Italy, too. Though the country was under a cloud cover and we could only read the sign that said where mountains should be.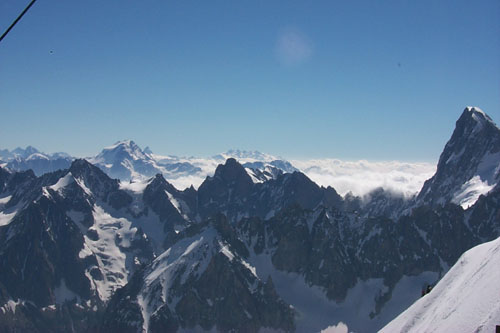 Rode the gondola back across the glaciers as the clouds rolled in behind us. Came back to our room. Cleaned up and went for drinks at the Bistrot des Sports and then at La Boccalatte (lots of drinks... it was still too early for dinner, 6pm, even though we were starving. Don't even bother trying for dinner before 7). Finally we had dinner of wood fired raclette- googy, dripping cheese served in a medieval torture device. A 1/4 round of cheese is spiked on a rolling metal slide that rolls up to a grate filled with red-hot wood embers. You then tilt the cheese up until it starts bubbling. The Spanish Inquisition used this same device with non-believer's feet. Ask Jeff about the smell of cheese in the room (Think locker room after all seven games of the world series).
Saturday, June 10, 2000
Chamonix to Burgundy

We were unsuccessful at finding an open Summer Luge track. We tried. The two we found were closed with no sign of activity. Germany is definitely the better luge country.
---
Places and Addresses:
Chez Blanc, Place Bernard, Bourg en Bresse, France
Hotel de Savoie, place St. Francois, Annecy, France
Le Lilas Rose, passage de l'Eveche, Annecy, France
Restaurant Istanbul, 12 rue St. Claire/Faubourge St. Claire, Annecy, France
Le Venezia, 23 rue JJ Rousseau, Annecy, France
Le Peche Mignon, 9 rue JJ Rousseau, Annecy. France
Vivaldi Ristorante, 12 Faubourg des Annonciades, Annecy, France
Belmahdi, 5 rue de l'isle, Annecy, France
Hotel du Clocher, 110 Impasse Androsace, Chamonix, France
La Spiga D'Oro, 80 Rue Ravanel le Rouge, Chamonix, France
Le Bistrot Savoyard, 151 avenue de l'Aiguille du Midi, Chamonix, France