Alsace
Thursday, June 1, 2000
We found out today is a bank holiday. We have spent all our cash at lunch. We went to a bank, and low and behold, it is closed. So now we need to find those who will take credit. Fortunately, the French do (unlike the Germans), so all is well. Champagne blends into Alsace. Our destination is Eguisheim, near Colmar almost to the German border.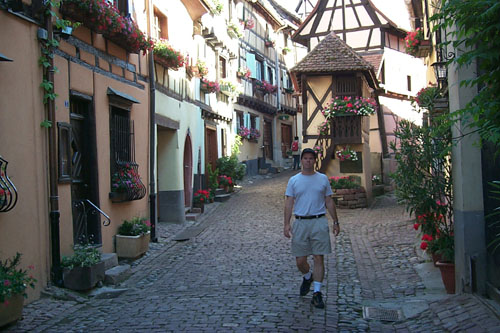 We park (along with the very large tourist buses-probably not a good sign), then try to find a place to stay. The obvious choices on the main boulevard are complet (full). We go to the TI and they find us a room. It is a room not a hotel and we must stay for two nights. It was so cheap, Jeff and I thought that even if we didn't stay for two nights, it was a good deal. The home was at the entrance of the town. Next we scope out the lay of the land and dinner. Jeff wanted to try a restaurant listed in Wine Spectator. Well it ends up you have to make reservations. They were booked for the night so we took one of the last spots for the next night (you get that Charley - eating, spending money to eat, enjoying eating, thinking ahead for a classic French meal in France). For that first evening, we opted for an outside cafe. The French allow you to order a la carte (which means menu) or to order the menu (which is a set meal with 3+ courses). I had a meal to make Eli cringe (joint of pork) and Jeff had a rustic pork medallions and lentils. Needless to say, we had a nice bottle of Alsacian wine (Hergest Grand Cru Pinot Gris 1998) with our dinner. Three hours is a good estimate to plot out for a dinner in France.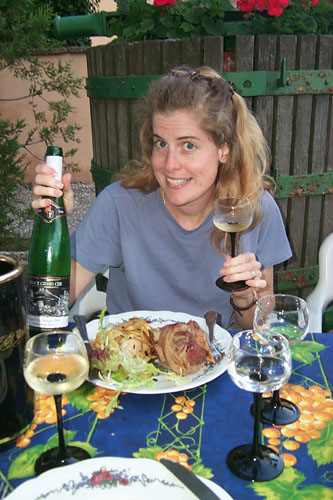 Friday, June 2, 2000
Some residual jetlag, but we finally are up and getting money first thing. We grabbed pain au noisettes and water and headed up the wine road to our lunch destination. We must have passed through 12 small villages, all with wine specialties. There were large nests on some buildings along the road. It turned out they were stork nests and this is a matter of pride for Alsacian villages.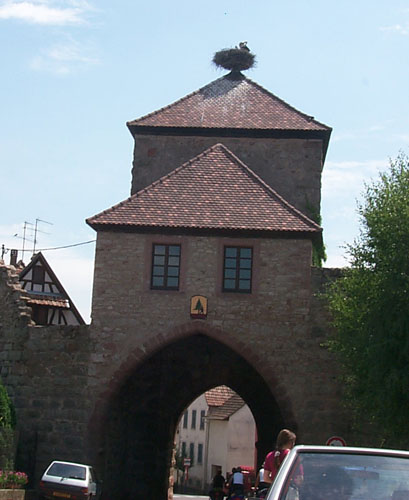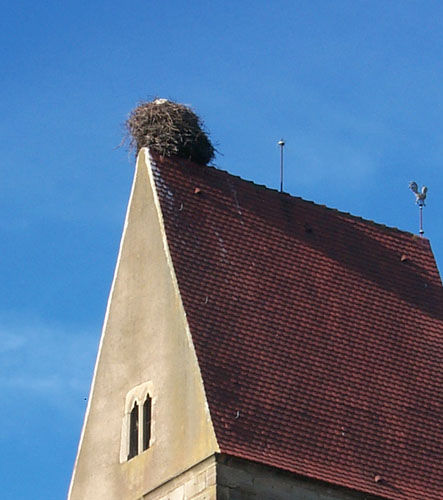 The lunch place was an outside cafe over looking the valley. We started with a "plank" of wine that was a cutting board loaded with 5 tasting portions of the locale wine (Gerwurstaminer, Sylvaner, Muscat, Riesling, Pinot Noir). We enjoyed salads with incredible cheese (hey Michael, let me know when you want my cheese), and yes, Dad I had Choucroute. It was mentioned on a wine enthusiast list of nice Winstub's (see the trend) as the best local food at reasonable prices in the region, but I can make sauerkraute and sausage and boiled potatoes at home. Jeff had a chicken in riesling with spaetzle that came in two giant earthenware pots. The view was beautiful.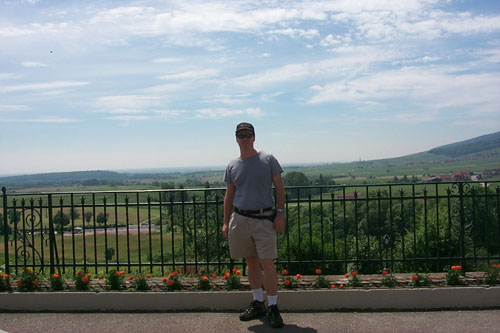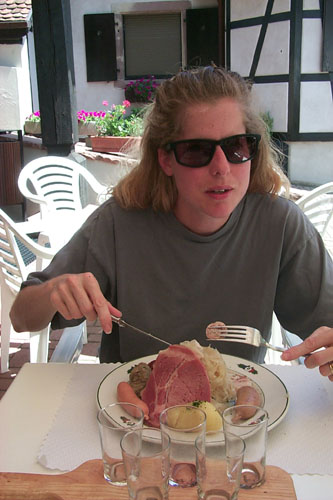 On our journey back to Eguisheim, we stopped for a hike up to a castle Haut-Koenigsbourg. It was a good thing too, since we had eaten so much (again). This place was very crowded. It is an almost fully restored castle. It was amazingly hot that afternoon so we cooled down with some soft-serve ice cream and then into the coolness of the castle. In one courtyard was a trebuchet (I hope everyone has seen the PBS series that features manmade contraptions and wonders, like the obelisk, chinese bridge and the trebuchet).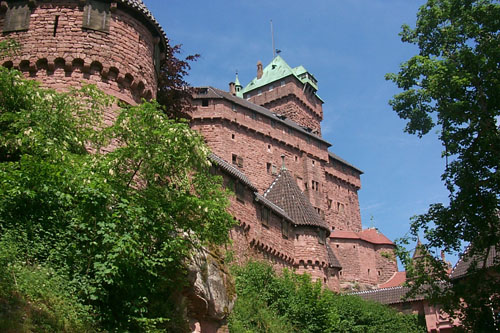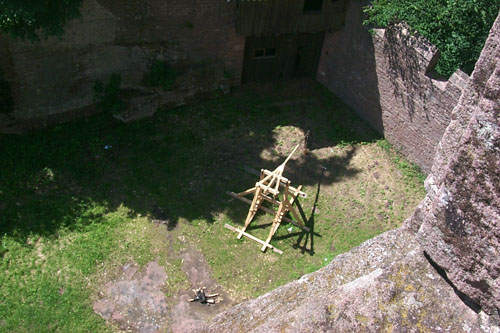 Coming back through all the little villages reminded us of Disneyland, except these we the real things. Traveling though narrow streets and low gatehouses. Plus all the vineyards inbetween the villages. We were back in time to rest before dinner. Dinner was incredible and definitely something I would have made special reservations for at home. If anyone is tired about hearing about food, then stop now, 'cause that is what France is about. They are totally serious about it. Everything shuts down for lunch for 2 hours. And dinners take 3+ hours.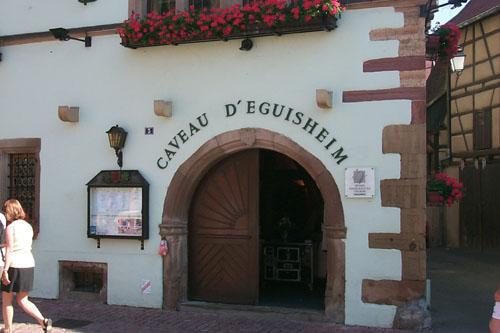 We were even dressed nicely as we'd brought special clothes for our special dinners. We both had an apertif (kir for Jeff and cremant, Alsacian sparkling wine, for me). Then came an amuse de bouche (pardon my spellings), two small cups of cold soup, one pea and one potato, and eggplant cavier between puff pastry. These will be made when we get home. Then we ordered our menus and an Alsacian Pinot Noir (Leon Beyer Pinot Noir 1997 - served chilled). We both had the pate foie gras (I know, Bryna, no organ meat) layered when thin slices of eggplant and topped with thin eggplant crisps and eggplant cavier. This was heaven and we could have stopped there. Then Jeff had and excellent rack of lamb with a flan (not sweet in this country) and I had some unknown white fish. No we are not done yet. Next was the cheese course. Out rolls a stinky cart of vile looking cheese. He named them off and I stuck with the chevres (goat cheese). They were nasty, but hey all cheese is when you think about it. For dessert we had something really chocolaty, a shortbread cookie with a souffle-like cake filled with a thick chocolate sauce served with chocolate ice cream. This put the one at the French Laundry to shame (I couldn't help thinking of one of our comrades giggling when he got his dessert). Whew, we did it ... ah but wait there is more. We followed dinner with coffee and then a small pallette cleanser of riesling sorbet and melon. All this for less than $150. We were stuffed to the gills and took a walk about town (it was after 11 and people were still eating). It does not get dark here until 10-ish.
---
Places and Addresses
PH Ginglinger, 33 Grand rue, Eguisheim
Auberge Alsace, 12 Grand rue Eguisheim
La Terrace Arnold, 98 Route des Vins, Intterswiller
Caveau d'Eguisheim,3 place du Chateau St.-Leon, Eguisheim