Burgundy
Saturday, June 3, 2000
We got some water and pastries in Eguisheim and headed out southwest to Burgundy. We took the Autoroute, major pay highway. We had read about this in Rick Steves' but he didn't explain how it worked. In the Champagne region we had hopped on and off. I knew we had to pay, but nothing told us how. Well on the route Rhone, you got on and there was a ticket dispenser. Drive like mad to your destination. Get off and pay at a toll both. Our whole afternoon's drive was about $11. Have we mentioned how hot it is? Well it is really hot and no air conditioning (how barbaric).

We know that we need to stop for lunch at noon, so we pick a fairly big name on the map and head toward centre ville (center of town). This has worked out well. We find ourselves in Besancon and it is market day. We wander about and find a nice bistot for lunch. I got a lite menue of green mixed salad and dessert (doesn't that rule). Jeff had the plat du jour: small version of my salad, chicken with green beans (and he ate them all) and dessert. Where else is dessert obligatory? We got some water and back to the Autoroute.

Our Burgundy destination is Beaune. This is the heart of Burgundy (Bourgignon) wine making. They are totally serious about it. Jeff did some research before we left and brought many cheat sheets as we did the wine scene. First when we got into town, we found parking (free!) and then looked for a hotel. I tried 4 places that were full. Finally, we found a place, but we had to eat dinner at the restaurant. I asked if I could just pay for it since there were some places Jeff had wanted to try. No good (yes I managed to do this all in French, folks). Anyway, the Hotel and Restaurant were centrally located in place Madeleine. Fine. We unpacked and showered (did I mention that it is really hot?) ready for an afternoon of wine.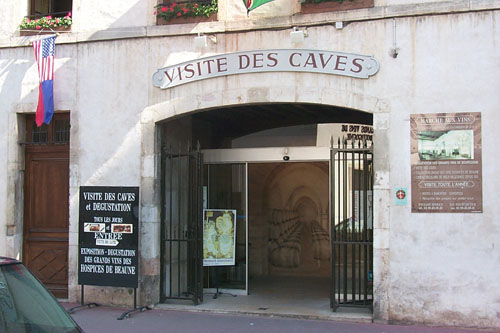 When in Burgundy, drink. Rick Steves' mentioned a wild place called Marche aux Vins. You pay $8 to go in a wine cave and taste 25 wines. It is all on the honor system. Everyone warned us of the expensive wines in Burgundy, but they seemed more than reasonable. Hey we knew these weren't the best, but many were quite good. We ended up with only 4 bottles as we are trying to pace ourselves (we gotta get 'em home). Armed with some taste knowledge, we walked around town and snooped in the wine shops. It wasn't quite dinner, so we stopped off at a Wine Bar. This is a nice way to try some good wines. For $23 Jeff and I each had 2 wines. We got to choose from about 25 wines by the glass (many more by the bottle). We meandered back to our hotel to change for dinner.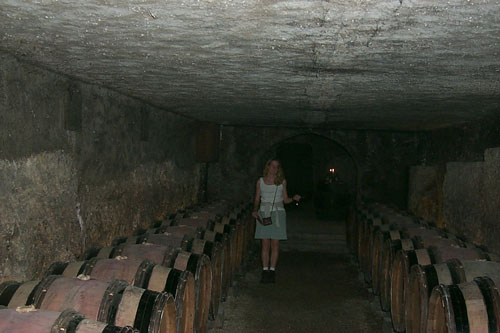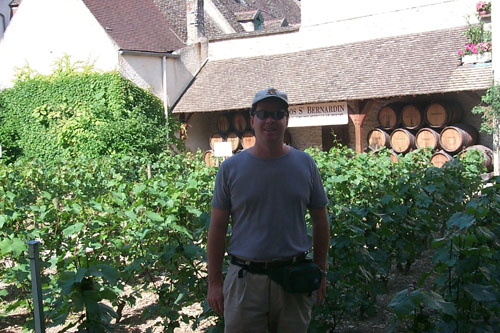 We sat on the terrace across a small street from the hotel/restaurant. It was amusing to watch the staff dashing across the street with stuff. Remember to close your eyes if you don't want to know about the meal. Here goes: Does the madame want an apertif? Oui! Jeff is really getting into this Kir thing. I had a cremant bourgignon framboise. The amuse bouche included some puffed pastry with cheese, a salmon tartar, and a plate of green olives. This would have never been something we would have ordered, but we were fairly well on our way after drinking all afternoon. Here's how far gone I was - I had escargot de bourgignon. Good little buggers. It was funny when they set out the silverware for the first course. Jeff asked what they was for and did I know how to use them. Years of watching my dad paid off. Jeff had a salad. We had a 1997 Faiveley Nuits St. Georges recolte du domaine. For our plates Jeff had lamb with green beans (the poor guy kept getting green beans) and I had beef Burgundy, with the special burgundy white cow, charolais. All around us were hug tables of people, some were German tourists. The cheese cart rolled up and I asked the waiter to go slowly. I had compte (hard), a blue, and one cheese that I really liked, Epoisse Marc Bourg. Jeff got a fresh farmer cheese, Fromage des Blancs. Does Monsieur want a digestif? Oui! Jeff and I both had Muscat followed by dessert and coffee. When we finished we stumbled back to our room. Many times during the night we awoke to noises in the kitchen below and then the aroma of freshly baked bread wafting in our open window (it was still hot).
Sunday, June 4, 2000
We did go to an historic site today. The Hotel-Dieu was built in 1443 by Nicolas Rolin,(then Chancellor of Phillippe le Bon and the Duke of Burgundy). Beaune was ravished by the 100 Year War and the Plague, so Nicolas and his wife built a free hospital for the village poor. This is a wonderfully kept hospital and museum. The were old instuments which looked like torture devices to us. There were old tapestries and painting.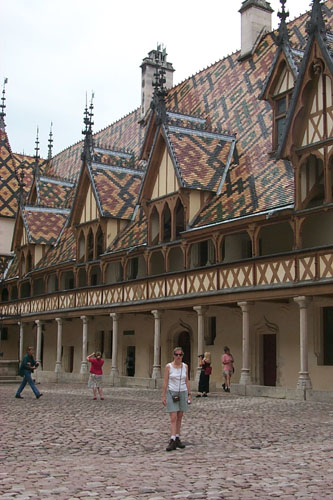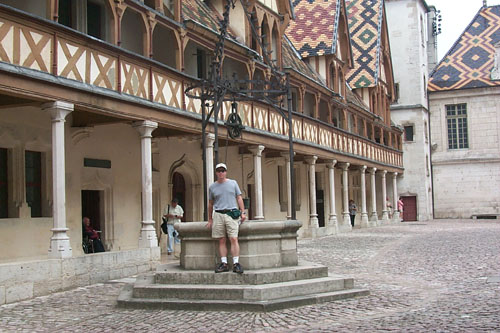 ---
Places and Addresses:
Le Maraicher, 10 rue Gustave Courbet, Besancon, France
Auberge Bourguignonne, 4 place Madeleine, Beaune, France
Marche aux Vins, 2 rue Nicloas Rolin, Beaune, France
Bistrot Bourguignon, 8 rue Monge, Beaune, France
Hotel-Dieu, Hotel-Dieu, Beaune, France