Burgundy Revisited and Versailles
Saturday, June 10, 2000
We liked it so much we had to come back to Burgundy. We would have liked to have stayed two days on the way out, but Annecy couldn't be rearranged. Shoot. We called quite a few places before heading out, but they were all booked. It is another holiday weekend (festival of the pentacost: can anyone help me out here?) and the French are out in force. We drove through some of the small villages in south Burgundy and settled on Meursault. Jeff was thinking of my preference for white wines and these are the absolute best. We splurged and stayed in a three star hotel, Les Charmes. France has a 0-4 star system for their hotels and it has to do with something we haven't totally figured out (it seems to be the inches between bed and the door plus the square footage of the bathtub). The one thing is the beds were comfortable in this hotel. Meursault is fairly quiet. We looked around for our dinner options and the one place we had called to make reservations was packed. Oh darn. We asked at the tourist info for the restaurant with the nicest wine menu and were sent to Le Relais de la Diligence. We walked about town (that took two minutes) and had a beer. Oh we played some Bust-a-Move.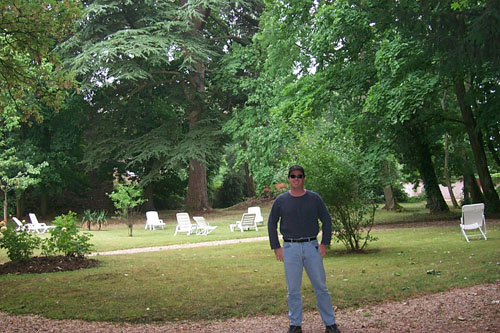 We are completely surrounded by vineyards here. Not like at home, since they are in little patches that were divvied up by the monks in centuries past. Jeff will have to explain:
From what I have picked up, over the years they have determined which small vineyard has the best soil, best drainage, and best sunlight. There are 800 or so of these marked Appellations in Burgundy but this covers a very small area in comparison with other wine growing regions in France or abroad. These Appellations are then ranked into classes. At the low end you get the basic Appellation Bourgogne. This would be what we have at home as basic Burgundy (red, white, and rose). There are then various classes beyond this which represent increasingly smaller regions. The highest of which are Grand Cru of which there are only 32 vineyard areas in the Cote D'Or region. The Premier Cru makes up about 11% all wine produced here. A Grand or Premier Cru was a big enough deal that entire towns grew around those particular vineyards. Puligny-Montrachet (Premier) and Chevalier-Montrachet (Grand) are examples. The white wine is only produced in a very small section of Burgundy. So, it is even more rare then the reds. Grand Crus are so rare that they are very expensive even here. We saw many bottles that were several thousand francs. They take their wines very seriously here having a thousand or so years experience at it. A bit more then us in California. We can definitely tell you it is very good stuff.
Dinner at Le Relais was nice, but ... it was like Genios for those familiar with Burbank. A family run French place with good food, a nice wine list, and families eating out (some dressed and some not). Your basic Burgundy meal (if you can ever call a five course meal basic) that is well done but sort of standard and lacking the creativity of the better places we have eaten at. We enjoyed a very nice 1995 Meursault Bouches-Cheres 1er Cru, Domaine Buisson-Charles (that's a white, folks). Jeff had the menu of rabbit gateau with salad, a pretty wild fish dish (oops I couldn't translate Limonade Surprise), a very nice duck in raspberry sauce, cheese cart (we are getting better at picking cheese we like off the cart), spumoni. I had some nice green aspargus flan and springs with decorations, pigeon (squab) with spaghetti-curled squash, cheese cart, and a light fluffy egg white thing that they called carmel with creme anglais. Each of us started with a kir, gougeres (Jeff's are much better), and inbetween courses we got some sorbets. We were stuffed. The evening was cool and it was raining when we left.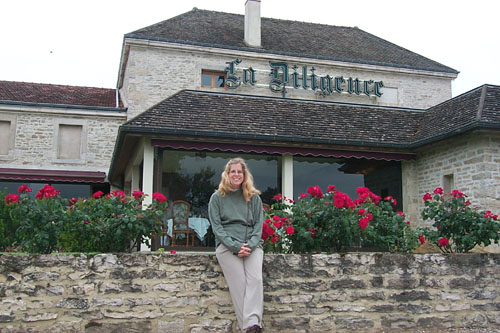 Sunday, June 11, 2000
We did some wine tasting and bought a few bottles at Domaine Chartron et Trebuchet in Puligny-Montrachet.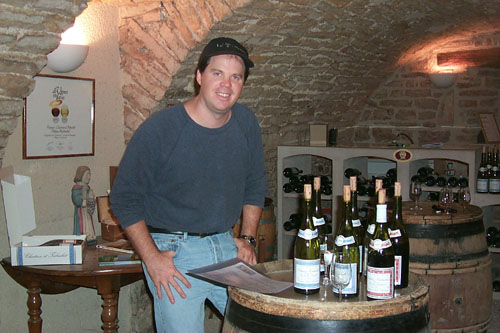 No, the eating adventure has not ended yet. I thought we could get into the restaurant we liked the night before for lunch today. Le Montrachet was booked for dinner but open for lunch. That seems to be the deal (like at home). Everyone was casually dressed and ready to eat. We were served a plate of amuse bouche along with our apertifs (Puligny-Montrachet for Jeff and cremant for Margaret). For the meal, Jeff chose a half bottle 1992 Douvot Volnay-Chevret 1er Cru (red). Jeff's incredible meal: starter was a vegetable terrine with garden vegetables/salad, plate was a chicken (en bresse: really white, tender) stuffed with foie gras with a light sauce and vegetables and small potato pancakes with spinach, and for dessert a very thin pear tart with pear sorbet. Margaret's incredible meal: started was a green asparagus with scallop gratin, coq au vin that was soooo rich, and dessert of Grand Marnier souffle that was so light and airy. Then they brough out after dessert jellies and other small sweets. We were in agony.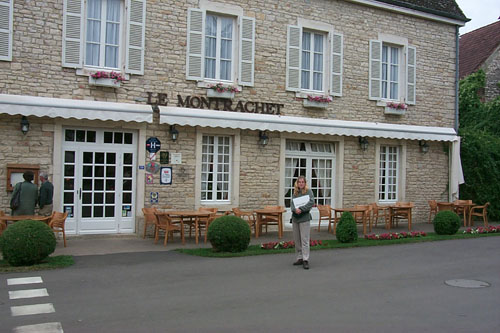 The long drive to Versailles began after our two hour gorge. Versailles is a big city. It has been 15 years for both Jeff and I. I forgot, but of course I was in a hunger haze having traveled here with Charley. We got to Versailles late and wanted to do the palace before closing. We had an hour and that was fine. The tour was very crowded and featured a few rooms in the Palace. The paintings and sculptures were nice though we felt a bit pushed around. The fountains were not running but the gardens are really nice in the summer. The gardens take up several square miles. We both decided we knew why the peasants revolted watching all that wealth and space wasted on one person. We found all the Americans we didn't see in the small towns and villages. They are all here in Versailles. Once you are used to small town touring and meeting locals, it is a bit of a shock to get lots of "Hi, Where are you from? Isn't France Great? We just love these cute palaces." This is sort of why we try to drive the road less traveled.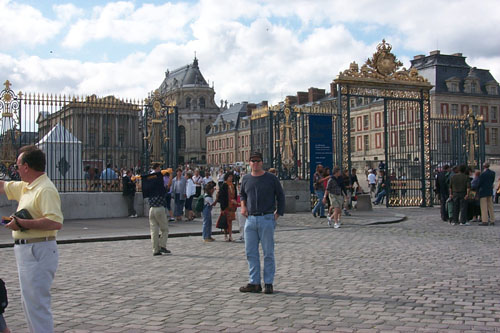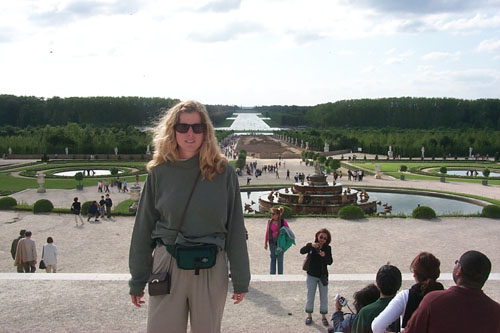 We took some time to find our hotel, not having a map of the city. The hotel is the former stables of the palace converted into a comfortable hotel. The night was beautiful and we walked around the Marche (a big market square). We had a light Italian dinner. After this afternoon our standards are very tainted. We have been busy trying to find the most efficient way to get the wine home.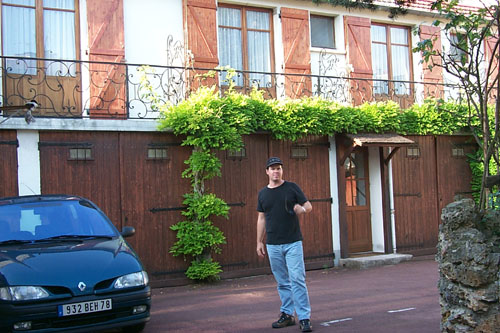 Monday, June 12, 2000
Versailles to Redondo Beach

Wine smuggling recap:

1997 Chartron et Trebuchet Puligny-Montrachet "Clos du Cailleret Rouge" 1er Cru (Pinot Noir)

1998 Chartron et Trebuchet Meursault "Les Charmes" 1er Cru (Chardonnay)

1998 Chartron et Trebuchet Puligny-Montrachet 1er Cru (Chard)

1997 Chartron et Trebuchet Chassagne-Montrachet "Les Morgeots" 1er Cru (Chard)

1992 Faiveley Nuits Saint Georges 1er Cru (Pinot)

Moet et Chandon Brut 1er Cru (Champagne)

1992 Moet et Chandon Vintage Magnum (Champagne)

1997 Bourgogne (Pinot)

1992 Saint Romain (Pinot)

1992 Savigny-Les-Beaune (Chard)

1997 Nuits Saint Georges (Pinot)

---
Places and Addresses:
Les Charmes, la place du Murger, Meursault, France
Le Relais de la Diligence, Meursault, France
Le Montrachet, place des Marronniers, Puligny-Montrachet, France
Hotel du Cheval Rouge, 18 rue Andre Chenier, Versailles, France
Pizza Capri, 17 rue Ducis, Versailles, France